About the Open Innovation Platform
About the Open Innovation Platform
About the Open Innovation Platform
A base offering one-stop open innovation solutions
The Yamagata University Open Innovation Platform centrally manages joint research financed by private funds in competitive domains. The Platform manages four campuses under one management structure across the university and in collaboration with: the Industry-Academia-Government Collaboration Promotion Platform (for non-competitive domains), the Center for Management of Intellectual Property, the Academic Assembly, and the Yamagata University Frontier Research Center of Excellence (YU-COE), proceeding with promotional operations in an organized manner.
Through collaboration among the administration departments in charge of budgeting, finance, human affairs, legal affairs, and intellectual properties, etc., and with the project department in charge of research, we: create and manage joint research in an organized manner, build an "open innovation ecosystem via academia-industry collaboration focusing on contributions to business," and promote the creation of innovation and the enhancement of educational and research activities.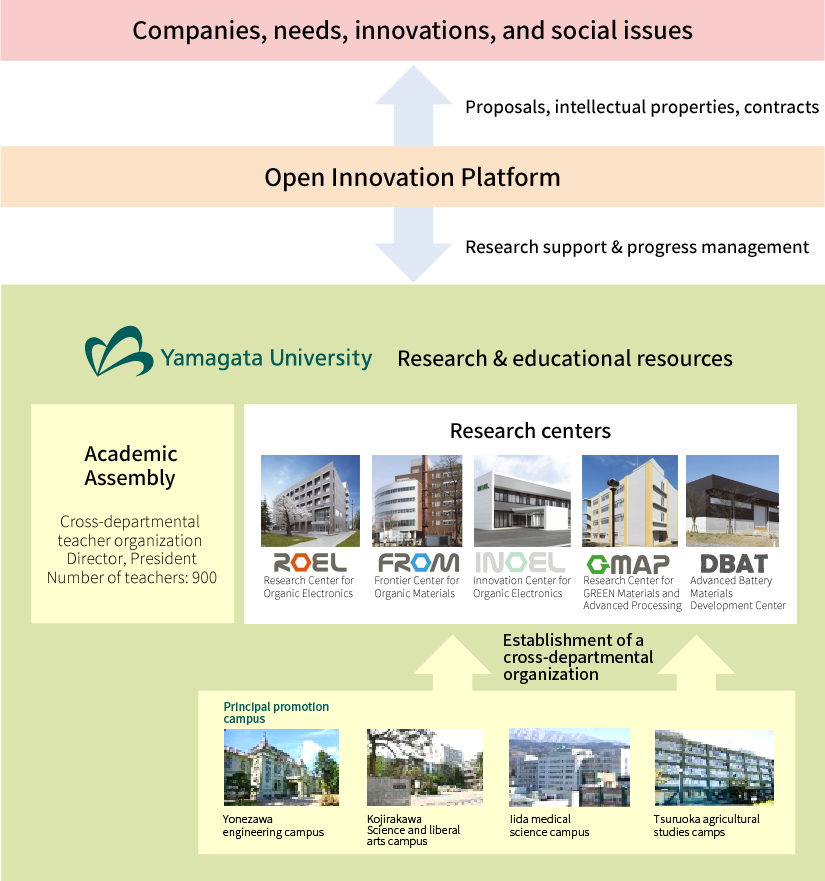 With the Open Innovation Platform as the contact, we can build a research and development structure to respond to corporate needs.
We strive to strengthen management through large-scale centralized control.
By establishing a cross-departmental Platform, we can address academia-industry collaboration through concerted efforts across the university.
We make efforts to invite human resources outside the university, develop human resources within the university, and enhance research environments, aiming at sustainable development.